Oct 27, 2016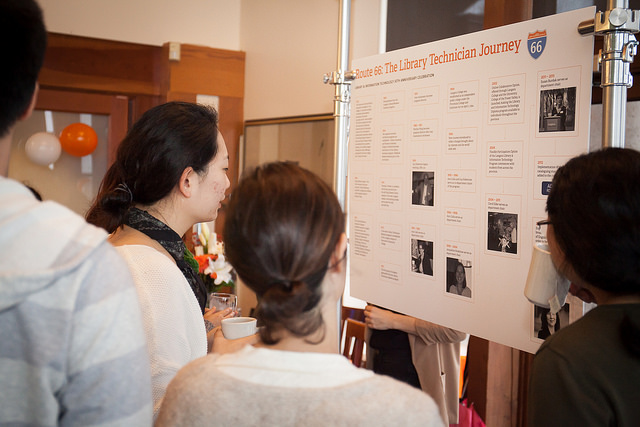 Vancouver, BC – The Langara College Library and Information Technology program celebrated its 50th anniversary with a homecoming event held on Wednesday, October 26 at the Langara Golf Course Clubhouse.
Over 50 current and former students, faculty, and alumni were in attendance, including three former Library and Information Technology department chairs.
"It was wonderful to have so many from our Lib Tech community join us for this celebration," said Diane Thompson, Department Chair, Library and Information Technology program, Langara College. "It was great to reconnect with alumni and faculty both old and new. The Lib Tech program has such a rich history and I am constantly amazed at what our grads are up to and how they are contributing to the world."
The Library and Information Technology program started in 1966 as part of the Vancouver Community College. Over its 50-year history, it has graduated well over a thousand students.
View Lib Tech Homecoming Event Photo Gallery
About the Langara Library and Information Technology Program
The Langara College Library and Information program is recognized across Canada. Developed in accordance with the Canadian Library Association Committee on Library Technicians' (Role and Education) recommendations, it prepares graduates for para-professional duties in public, academic, and special (e.g., medical, law, corporate, etc.) libraries and governmental institutions.
About Langara College
Located in beautiful Vancouver, B.C., Canada, Langara College provides University, Career, and Continuing Studies education to more than 21,000 students annually. With more than 1,700 courses and 130 programs, Langara's expansive academic breadth and depth allows students of all ages, backgrounds, and life stages to choose their own educational path. Langara is also known as house of teachings, a name given to it by the Musqueam people on whose unceded traditional territory the College is located.
Learn more.
Yvonne Ohara
Alumni Relations
Langara College Foundation
604.323.5674
alumni@langara.ca