Sep 23, 2016
A Conversation with Human Kinetics Alum - Arthur Tolhurst
Arthur is a Langara Human Kinetics (1995) alumnus. Sports were always his passion, and football a defining force in his life. Now a Strength and Conditioning Assist with the NFL's Cleveland Browns, Arthurs chatted with us recently about his journey from Langara to the NFL.
Thanks for chatting with us. What first interested you about Human Kinetics?
I really liked sports and the science of movement. Human Kinetics was a way to incorporate both. I was able to relate a lot of my coursework to the sports I participated in. I use the knowledge I learned at Langara everyday from general anatomy to different coaching principles.
How important do you think education is for a career in professional sports, both as an athlete and as a coach?
I think education is paramount for a career in professional sports. It's important as an athlete and coach to know the "why" to what you are doing.  Also having a good education can help with managing money and preparing for life after sports.
What advice would you give to students considering a career in Human Kinetics?
Stay up to date on all the latest technologies and not be too focused on one subject. Being well rounded in different sports and having knowledge in sports science has really helped me. There are so many different areas that could lead to careers.  Networking is huge and having a passion for what you do.  Mine was always football.
In your experience, what differences are the differences between US vs. Canada athletics and varsity vs. pro?
The differences between American and Canadian Athletics are money, marketing, and advertising. You just can't compare the amount of money and exposure between the two. Canadian colleges are comparable to NCAA Div. 2 or 3 but not Div. 1 Sports. I worked at the University of Oregon where we were absolutely spoiled with the amount of clothing, shoes, and gear.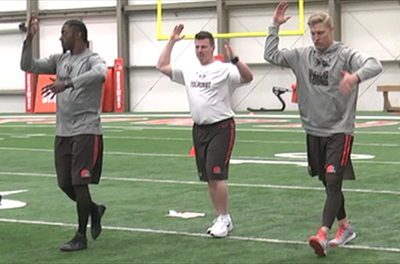 How did you get there from here (i.e., Richmond to Cleveland)
I spent a year at Langara before transferring to UBC. After being at UBC I was fortunate to play in Hamburg, Germany and then with the BC Lions.  I transitioned to a coaching role in Vienna, Austria working with a lot of American Football Coaches. 
I worked as an unpaid intern at the University of South Florida before landing a Graduate Assistant position with the University of Oregon in the Strength and Conditioning Dept. 
After finishing a Master of Science in Educational Leadership, I earned a job as a full time Assistant Strength Coach at the University of California Berkeley.  I spent one year there and was offered a bigger role back at the University of Oregon. 
I spent 4 more years there as an Assistant before getting the job in Cleveland. In those 4 years I was a Guest Coach with the Browns in 2014  I made some great connections that helped me get an interview as a Sports Scientist a year later. The position was never hired due to coaching changes with the team. I interviewed with the Browns a subsequent year after that as an Assistant Strength Coach with another contact I had made which I accepted.
Was working for the NFL a lifelong dream? 
I have always wanted to be in the NFL as a kid. I always wanted to play in the NFL. It's the top level for Football. It has been a lifelong dream and I'm very fortunate to be here. It wasn't easy to get here and it is even harder to stay here. NFL typically stands for "Not For Long".
What next?
My goal is to be a Head Strength Coach or Performance Director in the NFL.  I'm taking advantage of every minute working with the Browns and gaining invaluable experience and contacts in the league.
How has your experience been with the Cleveland Browns?
It has been nothing short but amazing. I work with QB's and Specialists (Kickers and Punters). There are long hours, high expectations, and high stress that come along with the job, but I get to be around football everyday I work along some great coaches and players that make this job great. I'm excited to help turn this program around. Hue Jackson is a great leader.
What was the most unexpected point/experience in your career so far?
I think landing an intern position in Division One sports with no experience or landing the Graduate Assistant job at a big football program like Oregon as a Canadian has been the biggest jump. Navigating work visas and being away from family and friends in Vancouver has been a challenge as well.
Do you have a favourite Langara memory? Favourite teacher?
I enjoyed my time at Langara watching basketball games and being part of the student life experience. All of my Human Kinetics classes were great. 
My favourite teachers were Norm Olenick and Kevin Hanson. They were both instrumental in my career moving forward. I always looked forward to going to their classes.
Knowing what you know today...what piece of advice would you give your old student self?
Don't give up on your goals, get certifications when you can, help out people when you can, go for what you want, and keep in contact with colleagues.
Thanks for sharing your story with us. Congruatulations on your success. 
Learn more.