Jun 26, 2014
Inspector Marcie Flamand - South Command Duty Officer, Vancouver Police Department
Criminal Justice Graduate (1984)
The custom modified black Ford SUV rolls out of the underground Vancouver Police Department parking lot off Cambie Street and starts heading to a call. Behind the wheel is Inspector Marcie Flamand who has all the communication devices at her fingertips including computer, radio, blackberry and cell phone. As duty officer in the VPD Operations Division, South Command, Inspector Flamand has a big job.
The duty officer, otherwise known as Car 10, is operationally in charge of the city and attends critical incidents and major crimes. Marcie often arrives early for her shift to work out in the VPD gym as keeping in shape helps prepare her for anything that might happen while on duty. During her shift she could be involved in any number of incidents such as liaising with negotiators, arresting a drunk driver or getting caught up in a bar fight on the Granville Mall. Marcie has worked in a variety of assignments during her VPD career which have all contributed to the respect shown to her from other members.
 As one of six siblings Marcie knew she would have to pay for her education. At a young age she began working at the iconic Vancouver restaurant on Davie Street called the Fresgo Inn. As a cashier she gained experience dealing with all kinds of people from police to street workers. While attending Gladstone High School she remembers that a police woman visited the class and she learned about the Criminal Justice Program at Langara.
Working at the restaura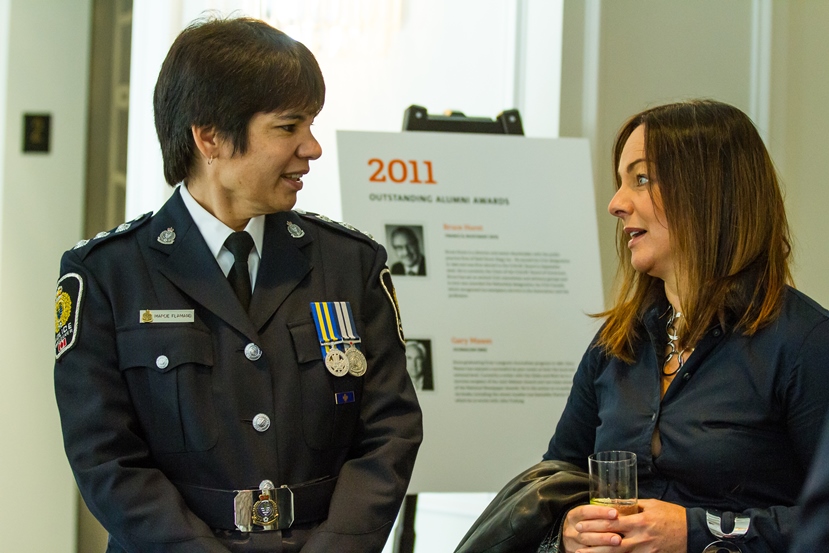 nt and attending Langara was challenging but Marcie says all the courses were applicable and for the first time she enjoyed math. Everyone was like-minded and had similar goals. Many of the group, including Marcie, joined the reserves and it was through her Langara connections she landed her first full-time job at the SkyTrain.
Marcie's first VPD posting was as a patrol constable and she later moved into surveillance and community policing.  Promoted to sergeant she worked in recruiting and training until she ran a patrol team and moved to the downtown eastside as staff sergeant. She became involved in the DTES Sister Watch program and was instrumental in bringing the Adopt-a-Block program to Vancouver. Marcie has also served as a Director on the Board of the BC Crime Prevention Association. She has earned a citation, commendation and a 20 year medal for exemplary service.
Marcie says that one of the biggest challenges facing the VPD today is the extreme poverty and addiction in the downtown eastside.  It is crucial that programs for young people continue to operate and offer alternatives to gangs. Women on the downtown eastside know that Marcie's heritage is Metis so it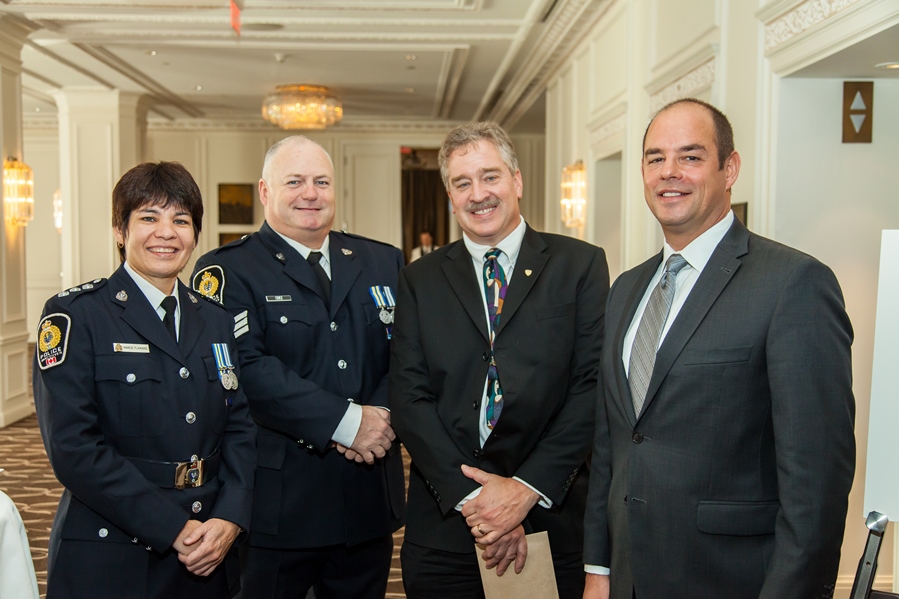 does help in her role and she says she has not experienced any discrimination. She relies on her training and her common sense to lead her through the demands and challenges of the job.
Marcie says she likes the excitement her role provides and she is never bored. She is constantly learning and there are many extra-curricular opportunities in the VPD. Marcie's advice to students today is to get out there to volunteer and network. You need to have connections to help you along your journey. Marcie was assigned to her current role as Inspector in September 2011, the same year the VPD celebrated its 125th anniversary.  She is part of a policing tradition that routinely goes "Beyond the Call" in order to keep the officers and the community safe.