Dec 5, 2013
2013 Outstanding Alumni Award Recipients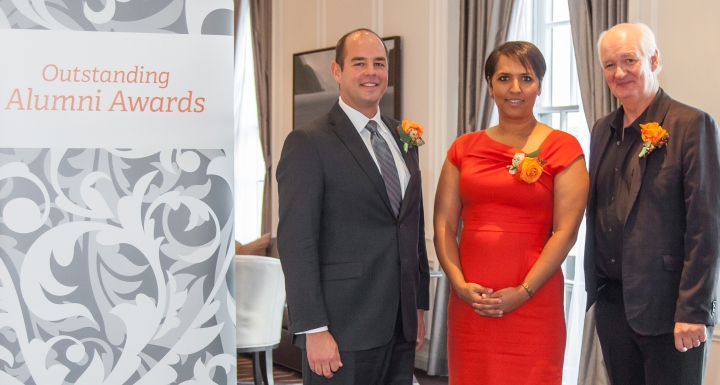 The Outstanding Alumni Awards are presented annually to celebrate the contribution of exceptional individuals who have enhanced the reputation of Langara College through their inspirational careers. On Monday, October 28th Langara College hosted the 2013 Outstanding Alumni Awards at the Rosewood Hotel Georgia. Langara honoured three accomplished individuals, Honourable Judge Reginald P. Harris, Colin Mochrie and Simi Sara.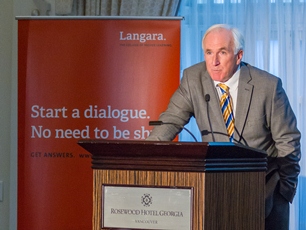 Langara College alumnus and 2011 Outstanding Alumni Award recipient Gary Mason emceed the alumni awards luncheon event.  Special guests included Hon. Andrew Wilkinson, Minister of Technology, Innovation and Citizens' Services and Langara College alumnus, Hon. Ujjal Dosanjh, PC QC.  Gary and Ujjal were accompanied by their wives, Barbara Gunn and Raminder Dosanjh, who are also Langara College alumni. Other special guests included College Board members, College Foundation Board members, donors, alumni, faculty, administrators and past outstanding alumni award recipients.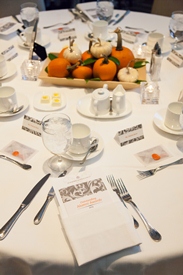 Langara College began the alumni awards program in 2007. Since then nineteen individuals have been recognized with an Outstanding Alumni Award. Our 2013 recipients were presented with a Langara tartan wool scarf designed exclusively for the College Foundation.
Honourable Judge Reginald P. Harris
Criminal Justice (1982)
Judge Reginald P. Harris was called to the bench of the BC Provincial Court in 2010 which was the culmination of his experiences practicing law and his 16 year career as a member of the Vancouver Police Department.
Colin Mochrie
Theatre Arts, Studio 58 (1978)
Colin Mochrie is widely known as one of the world's leading improvisational comedians and his first book of fiction, Not Quite the Classics, was released on October 22.

Simi Sara 
Journalism (1993)
Simi Sara has worked in television for over twenty years anchoring various broadcasts and most recently hosting her own talk show, The Simi Sara Show, on Vancouver radio station CKNW.