Sep 25, 2013
Salim Amin - Chairman of Camerapix
Journalism Graduate (1992) & Outstanding Alumni Award Winner (2008)
Broadcasting the News in Africa one Picture at a Time

Filmmaker, producer, photographer, and speaker – here's someone who thrives on being involved in every aspect of media and storytelling. Salim Amin knew he wanted training in journalism, so he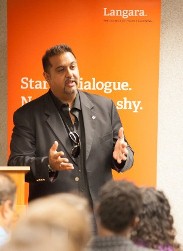 moved from Nairobi to Vancouver to take Langara's Journalism Program.
"Coming to Langara was the first time I left home - it was the perfect place for me. It was friendly, welcoming, and culturally diverse, a lot like home. There was a steep learning curve, but the experience was truly life changing," said Salim.
After graduation, he returned home with a vision to change perceptions of Africa by telling stories about the people, resources, and innovations. A few years later, he became Chairman of Camerapix, an independent media company that offers television production, publishing, and photography services.
As his career gained momentum, he produced a documentary about his late father, a renowned photojournalist who lost his life in an airline hijack. The film, Mo & Me, was screened around the world at prestigious events by the British Academy of Film and Television Arts and Cannes Film Festival among others. To date, the film has collected 17 awards for Best Documentary.
Staying connected to his alma mater, Salim came back to visit Langara and screened Mo & Me for a fresh crop of Journalism students. Being in the position to share his work in the very place that started his career was highly rewarding.
Beyond the accolades from the film, Salim was the recipient of Langara's Outstanding Alumni Award for Business Achievement, named "Top 50 under 50" by New African Magazine, nominated as a Young Global Leader by the World Economic Forum, and invited to participate as an advisor for many global initiatives. He spoke at TED Global about the stereotypical portrayal of Africa in media. There, he shared his new project called A24 Media, an agency that produces programming about Africa, covered by Africans. Around the same time, he also started The Mohamed Amin Foundation, a charitable institute to support and train young local journalists. 
Despite Salim's tremendously successful career over the past two decades, he continues to be humble and grounded.
"What I studied at Langara had an immeasurable impact on my career. I'm so grateful for everything I've learned there."

Salim Amin Links: