May 9, 2013
Bruce Hurst - Director & Senior Shareholder, Reid Hurst Nagy Inc., CGAs
Finance & Investment (1975) & Outstanding Alumni Award Winner (2011)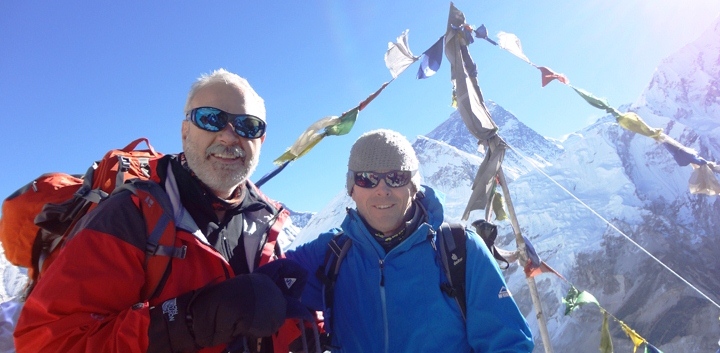 Conquering Everest is an Alumni Affair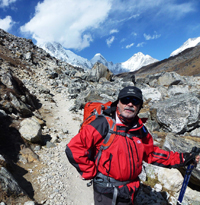 Climbing a mountain such as Everest was only a whim when Langara alumni Bruce Hurst and Jim Carr-Hilton were enjoying ski holidays at Whistler years ago. They had careers, mortgages and kids, so it was something that was put on the back burner.
Friends for over forty years, Hurst and Carr-Hilton attended high school together and then Langara College. They both share many good memories from their two years in the Finance Program. Carr-Hilton says, "I never stopped learning and continuing my education and I credit much of my motivation for business and learning to Langara".
Fast forward to February 2012 when Jim placed a call to Bruce and suggested they tackle the Himalayas and go to Mt. Everest. At the time Bruce thought he was joking but said he could not think of a reason to say no. After some discussion and a little pulling and prodding it was agreed that they would make the trip.  They began to make plans and preparations to travel to Nepal and trek to Everest Base Camp and Kala Patthar at 18,500'elevation (the peak of Whistler is 7160').
Bruce and Jim recruited a local guide from New Westminster to help them plan every aspect of the trip. He, along with family and friends, would accompany them on their adventure. They embarked on a rigorous training schedule but Bruce now wishes they had done more.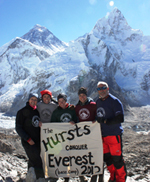 Bruce's wife Barbara documented their entire Everest journey in her blog which provides a captivating and detailed record of their adventures and challenges. Barbara in her first blog post quoted Confucius; "It does not matter how slow you go so long as you do not stop." The group kept this mantra in their mind as they faced daily struggles with fatigue, lack of amenities and altitude sickness
You can understand how pleased we are to announce that Bruce has agreed to be one of the founding directors of the newly formed Langara College Foundation. We are certain that Bruce will bring the same amount of dedication and determination to the board that he did during his quest to conquer Everest.