Oct 15, 2011
Mal Jardin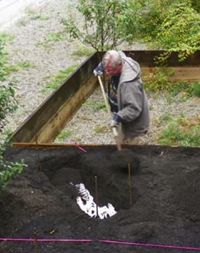 Anthropology instructor Stan Copp had an idea some time ago to create the project Mal Jardin, which is now a reality at Langara. Located in the sunken courtyard between the Gymnasium and C Building are wooden containers filled with topsoil and containing artifacts and traumatized vinyl human skeletons. Stan's plan is to have a permanent campus forensic archeological site, replicating the conditions of forensic archaeological crime scenes as well as archaeological sites.
This "real life" archeology field school site would provide forensic anthropology students the opportunity to conduct anthroposcopic analyses of remains to determine cause of death, manner of death and recognize forensic (criminal) and archaeological burial patterns. Plans also include workshops in forensic archaeology for laymen and professionals, such as the office of the Coroner, RCMP, Vancouver Police and other government or constabulary agencies. 
"A skeleton and its location tells a story", says Stan, "so the project balances forensics and archeology. It is important to learn and study what bones can tell us as DNA tests can take up to two years, unless a case has a very high profile. Bones can reveal age, sex, ancestry, pathologies and even give clues to a person's occupation." The project uses vinyl "bones" to be respectful of important ethical considerations that must be addressed when studying real human remains.   
Interest in this field is growing as indicated by the long waitlist for classes last semester.  Stan's interest in this field was sparked by reading National Geographic as a youngster, and his experience with enthusiastic anthropology instructors at VCC. He continued his education completing his MA and PhD at Simon Fraser University.
Mentoring for Success
Stan not only enjoys the subject he teaches but delights in the fact that he has mentored students who have achieved success in the field. Rudy Reimer, a past student of Stan's, is from the Squamish First Nation and is currently a McMaster University PhD candidate, and an instructor in the SFU departments of Archaeology and First Nations Studies. Rudy was recently featured in the Toronto Globe and Mail for his involvement in the repatriation of ancient First Nations human remains.
The remains came from the coastal site of Namu, one of the oldest sites in BC and a permanent year-round settlement of the Heiltsuk First Nation. With permission from the Heiltsuk Nation, the human remains were removed to SFU in order to study the history and traditions of their people. When the remains were returned to their original location, a repatriation ceremony took place at SFU. Rudy held the honoured position of providing a speech in his native tongue to commence the repatriation journey.
Like Rudy, Langara alumnus Adrian Myers also studied archeology under Stan. Adrian completed a Master's of Science in Archeology in England and is currently working on his PhD through Stanford University. Adrian has been in charge of a large archeological dig in Manitoba, sponsored by a grant from the National Geographic Society, as part of a joint project of researchers from Stanford University and the University of Brandon.
Adrian has been working on this dig located three hours drive northwest of Winnipeg. The site was a World War II prison camp, home to nearly 500 German soldiers who were shipped to Canada from Britain as prisoners of war (POWs). After the war, the POWs were returned to Germany and the camp was shut down. However, the site was important enough to protect as most of the camp had remained intact. The evidence left behind provides a glimpse into the lives of real people and reveals information regarding a piece of Canadian history. Adrian's analysis of the material will lead to the completion of his PhD.
Jack of all Trades
Stan continues to be a vibrant part of everyday life at Langara.  He says that "working in this field requires a delicate balance and it is absolutely vital to respect other people's traditions and to follow protocol". He is often called upon to provide consultation for individuals and companies who seek his advice.  He will soon return to the Peoples' Republic of China to excavate and repatriate a WWII American POW in a multinational collaborative project.  He calls himself a generalist in the field of archeology but says really he is an archeologist who is a "jack of all trades." And, he loves dealing with the bones.