Feb 15, 2011
Red Label Communications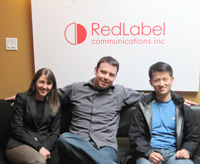 The offices of Red Label Communications Inc. hum with an energetic buzz as a bevy of young professionals have their heads down hard at work. Just as you would expect, the business is housed in a funky warehouse style building located just off Broadway and Main, which it shares with the upscale Cantu Bathrooms and Hardware Ltd.
What began in the kitchen of a loft after work hours is now a thriving business that employs 30 people, here, and in satellite offices located in Calgary and Toronto.  Cam, Kim, Matt, and Stefanie originally all met at Langara where their common interests in business created that first bond. The group became interested in competitions, and found the opportunity to meet new people, compete, travel, and at times even win cash, was very exciting.
Winning second place in the 2003 BC Business Simulation contest deepened their bond. After completing the University Transfer Program at Langara College, the foursome transferred to UBC where they continued their friendship at the Sauder School of Business.
The team, now all directors of Red Label, have worked hard to make the company the success it is today. They all agree that "entrepreneurship is not for everyone – there is sacrifice, stress, and a certain work ethic required". They specialize in print design, web development, trade shows, branding and identity, and multimedia production. Their very creative and red website states, "Forget Right Brain/Left Brain Agency Thinking – We Use the Whole Thing"!
The connection this group has to Langara still continues today. Red Label provides working opportunities for our Co-operative Education students. It is very competitive, but provides an opportunity for young students and graduates to open their eyes to what business is really like. It is real work and the experience is very marketable. The young interns begin nervously, but their skills improve and at the end of their term they become confident professionals. Matt is currently a Langara Co-op Advisory Group Committee member and says "providing work is a big part of their business as young energized students help in their business development."
The four of them agree that the Langara School of Management is a great option. With smaller class sizes there is more access to instructors. Their advice to current students is to "do a lot of networking – get out there and shake a lot of hands".  In addition, it is important to commit to as much volunteering and extracurricular activities as possible. "Make sure you meet your peers, as those are the people you will be doing business with."
Their advice to alumni is to stay connected as they have to Sauder and to Langara. They go back, visit professors, do lunch and help out as business competition coaches. They have learned a lot from coaching.
The Red Label directors hope to grow the satellite offices in the future. Their goal is to become better equipped to provide services to outlying markets to increase business, as they are "definitely in this for the long haul."