Feb 20, 2011
Alumna Helen Williams
Associate Arts Degree, Canadian Studies, 2011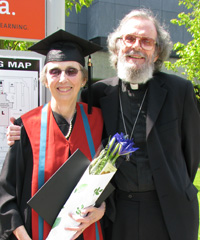 Reflecting on recent Canada Day celebrations, there is no-one who celebrates being Canadian more than Langara alumna Helen Williams. This is true in spite of the fact that Helen has spent many of her years living outside Canada. Helen attended Langara convocation in June to accept her Associate of Arts Degree in Canadian Studies. Her remarkable journey has led her to accomplish that credential at 67 years of age, but Helen says she is not stopping there.  She plans to continue working towards a degree.
Helen has been a real fixture at Langara College for the last 5 years. Often seen working at a table in front of Tim Horton's she was sometimes mistaken for an instructor.  The gray hair and the briefcase on wheels might lead one to make assumptions, however, Helen was the embodiment of the student experience.
With a 45 year gap in between schools, Helen chose Langara to pursue her studies at Langara due to the small classes, easy access, and the Canadian Studies program.
As a 7th generation Canadian growing up in the Lower Mainland, Helen never forgot that her parents had to quit school to work. In those days, women's options were to become a nurse, teacher, or secretary. University was not an option for Helen, so she learned secretarial skills, and at age 15 was employed. Her father left at 14 to work to help support his family.
A trip to New York introduced her to a gentleman who would help to shape her life.  She married and left the next day for the United States with her new husband, the Reverend Canon Douglas E. Williams.  They settled in California where they had four children and enjoyed their busy life.
Helen had always been very clear about her future plans, informing her husband that she would live in the United States while he worked, but that when they retired they would return to Vancouver. They arrived back in Vancouver on January 30, 2000.
Back in Canada Helen realized that she had never voted. This resonated with her as she began to reflect on feelings that had begun while living in California that she was, "less than" due to her lack of education. She found that living there one heard nothing of Canada and it made her frustrated and increased her thirst for knowledge of Canadian history. After the loss of her mother she was then free to pursue her interests.
Life has not been without its challenges. Helen has fought back from heart surgery and a stroke. In addition, she was diagnosed with a severe chronic infection that left her health compromised. The support she has found at Langara contributed to her success.  She says the employees at Disability Services give 110% and the assistance she received such as taped books, use of a computer and extra time for exams, all helped her to succeed.
Helen misses her children, who are still living in the United States, but calls the college a "stable of young people', which has made it easier. She is concerned that many students today are not engaged and therefore are not gaining as much from their educational experience as they should. She feels they should do more to prepare and be accountable. Her advice to students is to do all this in your 20's as there is so much to learn.