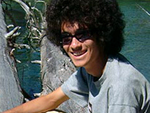 As a student, Daniel Budgell was selected to be part of Langara College's Rural Health Training project in the city of Mwanza, Tanzania. The project's objective was to develop community-level training modules in water quality and health. Participation in this project was a memorable experience for the College, but Daniel took it one step further. He started his own non-governmental aid organization, the "Global Peace Network" (GPN).
The Global Peace Network focuses on getting children off the street and into schools, distributes mosquito nets to help prevent malaria, and aims to reverse some of the deforestation occurring in the Mwanza region with a tree-planting project.
The GPN has secured funds to build a small orphanage, community centre, classroom and dispensary in partnership with local Tanzanian associations. Daniel will continue to volunteer in Mwanza to supervise and assist in these developments.