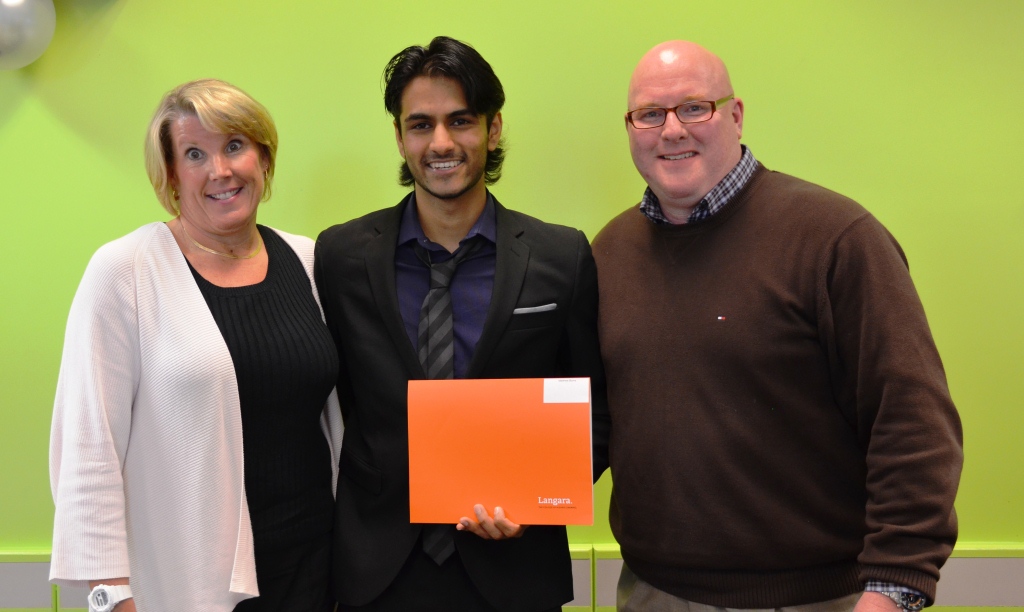 Tracie and Jamie Rennie at the Recreational Leadership Internship Luncheon, 2014
Traci and Jamie Rennie are Founders and donors of the Smith-Rennie Award for Excellence in Youth Work which is awarded to the Recreation Leadership student with the most interest and aptitude working with youth. Over the last 15 years, they have also hosted over 20 Langara interns from the Recreation department. 
What was it like coming back to Langara as a donor and intern host and engage with the students of today?
Traci: It has been such a rewarding experience to make a difference for today's students. As alumni, it is really gratifying to see the impact on current Langara students.
Jamie: We've always remained a part of Langara, first coming back to speak with the students, then hosting both practicum and internships, becoming a donor felt like a natural progression.
It feels easy for us to give back, someone else did it for us when we were students and we're happy to do it for the current students.
What motivated you to give back to Langara and the community?
T: I had such a great experience during my time as a student, it was so positive, and I am happy to be able to give back to an organization that gave so much to me. Our award is a great way to continue this connection that we've had for many years.
J: The program itself was built in a way that encouraged everyone to continue to be a part of, even after graduation. The model is that professionals from the community come back and teach the students, there is a succession plan that encourages grads. Once we are in the industry, we feel like it is now our turn to give back. It feels very natural in the way it was developed. It not only promotes the profession but connects us as students to those in the field. It creates a network that is so valuable for everyone.
What piece of advice would you offer to a student beginning their time at the College?
T: To make as many connections as you can. With instructors, other students, make connections and take any opportunities that come your way. Attend conferences, volunteer, get involved. It will help your community and you.
J: Same advice I give to our three kids, get experience in the field that you are going to school for, try to get some experience that will complement the program. This will make you a more eligible candidate for any position.
Traci and Jamie have three kids, 18, 21, and 23. One is currently working in IT within recreation.
If you could pass your gratitude on to a fellow Langaran, that supported or inspired you, who would that be?
T: Vince Kreiser, who was the Program Coordinator for the Recreation program at Langara for many years. Vince was the key person and our way to stay connected with the program. He got us involved and introduced us to students. He encouraged us to start our award.
J: It is Vince for me too. He started as an instructor and now I call him a good friend. He is a great inspiration for me. The work he did for the program and the College was unbelievable. He is still dialed into what's happening in the field and I'm lucky to now call him a friend.
What was your biggest takeaway from this past year?
T: Working in Rec we are used to being flexible and managing things day to day, but I have been amazed by how resilient we have been, how flexible. Our ability to change and adapt is incredible. I see it in my colleagues every day.
We're shifting and we're definitely more resilient than I thought. I'm impressed but that and our commitment to striving for the best.
J: I'm impressed by how we have found new ways of doing business. We've found ways to adapt and change, and many of our new practices will stay. Systems for pre-registration have led to efficiencies that will help in our operations post-pandemic. We will continue to change and refine our work, this time has proven that we can do that. It has been an eye-opener on our ability to pivot and change and I'm so impressed by our staff who haven't slowed down but adjusted.
What's your favourite memory of Langara?
T: Not one specific thing but the connections I made with the instructors and fellow students, the relationships that were formed and live on today.
J: The entire program was incredible. I have two strong memories that stand out. The first is of Vince telling us that we may change our jobs six times throughout our career. I thought no way. I now understand as I have changed at least six times in the last 30 years. I had 18 years for the City of Surrey and now have been in a few different roles.
My second is my outward-bound experience where we had to build snow caves and stay in one overnight. It is such a positive memory to see everyone pull together as a team and figure out how to do it. It was out by Pemberton and truly gave us the opportunity to find the dynamics of the team, it was easy to identify the leaders.
T: Mine was Keremeos in September and was a great way to kick off our two-year program. It was amazing to bond with classmates at the beginning of our program.