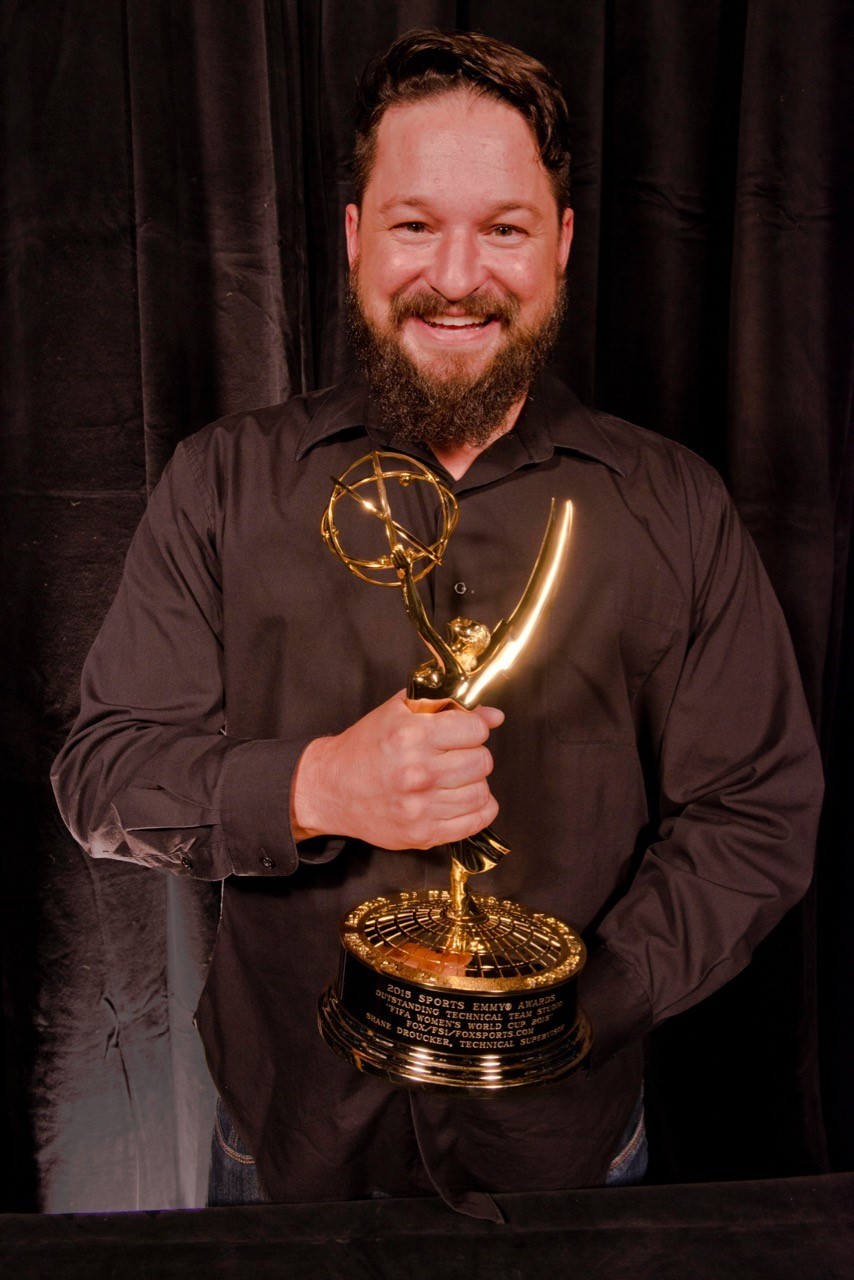 Shane Droucker
Shane was unable to attend his own graduation ceremony as he was already too tied up working with a bevy of small and large, local, and international producers and production companies. Since then, he has worked extensively in dance and theatre, at home on the west coast of BC and abroad, while also working his way up at the Vancouver Playhouse Theatre Company where he started in the production department as a driver and became the Technical Director for the company.
Having begun his career in theatre, he eventually moved to the special events industry, working for international events companies such as TBA Global Events. Shane's "Can Do" attitude and technical experience make him well suited to execute and build whatever the design team desires.
Recently Shane was honoured with an Emmy award for his role as Project Manager, leading a massive team of builders, designers, construction personal, riggers, and technical teams to build the FOX Sports broadcast centre for the 2015 FIFA Women's World Cup of soccer on the Jack Poole Plaza.
In 2008, Shane was invited by David Clark at BC Event Management to work on the Aga Khan's– Golden Jubilee Celebration at BC Place Stadium. After experiencing success, he was invited to permanently join the team and was instrumental in the work the company went on to do for both the Saskatchewan and Quebec pavilions during the 2010 Winter Olympic Games in Vancouver. He is now the Director of Production at BC Event Management.
Who were the people that inspired you at Langara College and Studio 58?
Shane throws a special shout out to Bruce Kennedy, a (now retired) Studio 58 faculty member who mentored him through the program. He also wants to recognize Carol Chrisjohn, Sherri Sadler, and Pam Johnson for their dedication and perseverance.
"People that come out of the program are unparalleled in our industry. They have already had their mettle tested, and they start out ready, and with some real-life experience. Studio 58 is a gem for Langara College. I owe my many successes to the team there that helped me hone my craft."
How did Covid affect your business?
Shane typically has always worked from home and so luckily the shutdown had an insignificant impact in terms of his day-to-day operations. However, with it came a need to pivot from large-scale events to something a little more hybrid. The events are now a lot smaller in terms of in-person attendance, but with the capability to host many more online guests and viewers.
Are you still connected to Langara College?
Shane is at the college every year as he handles all our convocation events, as well as some of the other celebrations. Langara College is his alma mater, and he is so proud to have been a Studio 58 graduate. Considering it an honour, Shane continues to assist the college and mentor Studio 58 graduates, helping steer them in their career paths.
Advice to Graduates: "Be kind" and "Hang in there, this too shall pass"
Advice to new students: "Make sure you know what you really want in life, and pursue it relentlessly"