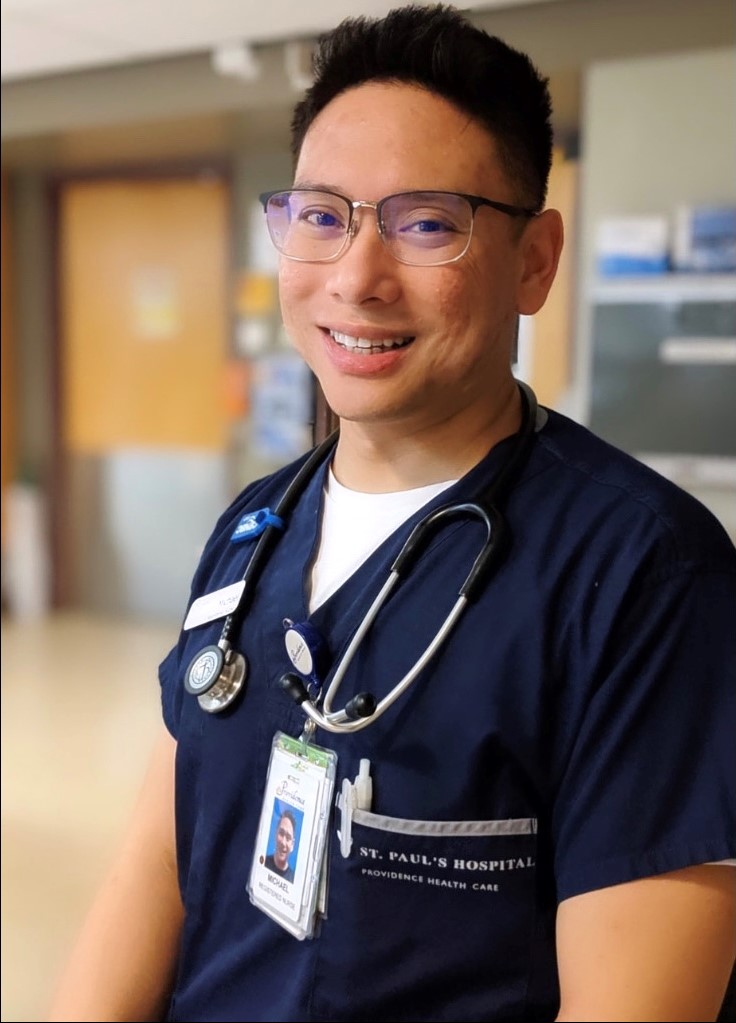 Michael Espiritu
After graduating from Langara's Nursing Program I was immediately hired at St. Paul's Hospital and took care of Renal Nephrology, Urology and Kidney Transplant patients. It was my first stepping stone before going into St. Paul's Hospital Heart Centre Cardiology Telemetry Medicine. I was also given the opportunity to mentor clinical staff during St. Paul's transition to electronic health records as Clinical CST Peer Mentor. After more than 2 years of bedside practice, I moved to public health practice under the BC Centre for Disease Control as COVID-19 Clinical Nurse Educator and have been heavily involved with the VCH COVID-19 immunization campaign.
What was it like coming back to Langara as a guest speaker to engage with the students of today? 
It was a pleasure to be a guest speaker as a Clinical Nurse Specialist to share my experience in a specialty area in nursing. I was able to share that after graduation, you can venture into different areas in nursing. I shared my journey of how I began in St. Paul's Renal Program and moved to SPH Heart Centre and into Public Health BC Centre for Disease Control as COVID-19 clinical nurse educator and immunization campaign. We had many participants in the online event, and it was great to see how eager and curious the students were to learn how to succeed in their careers.
What motivated you to give back to Langara and the community?  
My passion is to help people and teach. I really value the people who I work with. One day, I will potentially work with Langara students and I want them to be trained well. I know I will see them at one point. There will be barriers and struggles in school and I want to inspire the students to keep going and support them to succeed.
What piece of advice would you offer to a student beginning their time at the College?
You have made a great choice! Enjoy your journey, it's a life-changing decision. Your life will change for the better and although it may feel overwhelming at the beginning, you will be provided with the support and information to succeed. This is the best decision you have made.
If you could pass your gratitude on to a fellow Langaran, that supported or inspired you, who would that be?
I am grateful for the friends who were a year ahead of me in the program and mentored me. The instructors were incredibly encouraging and continue to be as they are now encouraging me to do my Master's degree. I work with some of my past instructors, and they have encouraged me beyond the classroom. Also, a fellow classmate and roommate have been a great inspiration and support.
What was your biggest takeaway from this past year? 
During this time of a pandemic, I learned that nurses are always going to be at the forefront of any health-related crises. We have to keep learning from each other and look at the silver lining. We have all been affected by COVID-19 and I use the experience as a motivation for perseverance as I have become more resilient. Let's learn from this past year and become stronger, together.
What's your favourite memory of Langara? 
Being able to make lifelong friends and making connections. Also, I enjoyed participating in events and especially liked the simulation labs and clinical experiences.