| | |
| --- | --- |
| Date: | Jun 22, 2020 |
| Time: | 06:00 PM |
Whether you are at the beginning, entering the workforce, or in search of a new profession, career planning is the first step to designing a career that you love and, at the same time, is practical and attainable. In this introductory Career Exploration webinar, our facilitators will introduce you to the processes of career planning to help you develop a better understanding of how your values, interests, transferrable skills, and unique attributes relate to potential career options and how these factors impact the path you choose.
You will be introduced to tools, information, and resources that will help you learn more about yourself; and gain insights that will help you align your values, skills, and knowledge to make good career decisions. 
Langara Alumni Career Exploration Webinar
Monday, June 22
6:00 - 7:00 pm (Pacific)
Open to all alumni. 
RSVP using the form below
Webinar hosts:
Zehra Kizilbash is an employment facilitator with WorkBC Midtown East location.  She has 8+ years' experience as a Employment Specialist / Facilitator and is also a Certified Art Therapist, supporting a diverse range of individuals of varying backgrounds and capabilities. She has graduated with a Postgraduate diploma in art therapy from the Vancouver Institute of Art and a BFA (honours) from York University.  Her approach to counselling and curriculum development is creative, solutions-focused and strengths based.  Zehra specializes in providing individualized counselling and group workshops in the areas of life skills, job readiness, empowerment, self-care, and other topics.

Alex Bell is a Langara Alumni and has been a community educator in international and community development and public education for over 35 years. He has been working in the employment and career planning field for over 12 years. Alex has also been a Provincial and National conference presenter on topics as diverse as community corrections to his own research into resumes and essential skills. Presently he is the Community Engagement Coordinator for Vancouver Midtown WorkBC.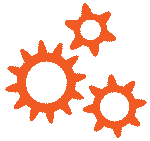 Loading...