Nov 30, 2016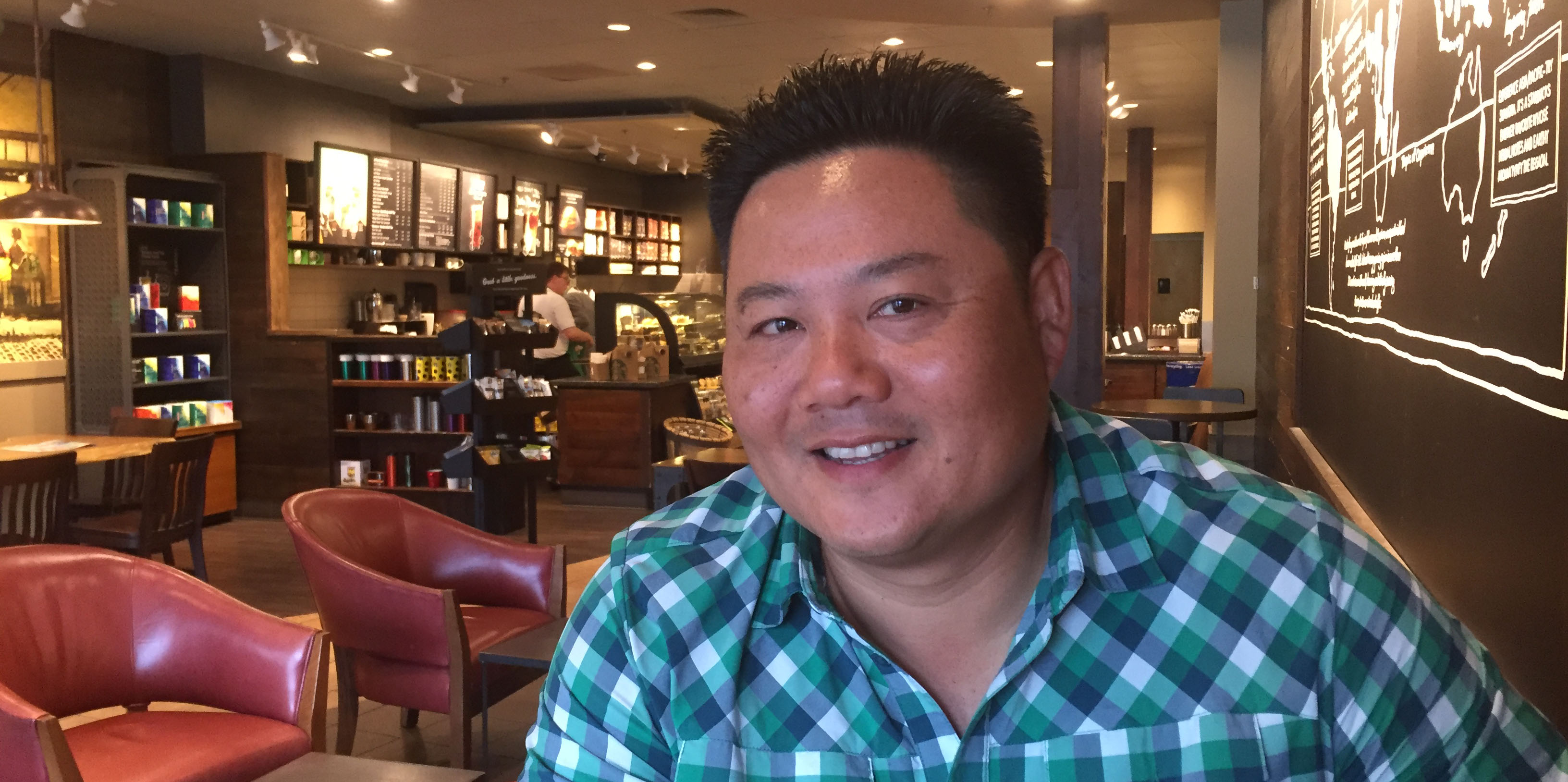 Alumni Relations recently sat down with Charles Chang, Langara Arts & Science (1989-90) alumnus, to chat about his experience at Langara and his passion for entrepreneurship. Since his time at the College, Charles has forged a successful career as an entrepreneur. He is the founder of the Burnaby-based Sequel Naturals Ltd, which sells natural health and performance nutrition products under the brand name Vega. In 2015, he sold Sequel Naturals Ltd. to the Denver-based WhiteWave for an estimated US$550 million dollars and started Lyra Growth Partners, a private capital and brand-coaching firm that helps emerging consumer brands accelerate their growth and maximize their value.
Thanks for the opportunity to chat with you and learn more about your story.  I understand that you're from East Vancouver?
I grew up in East Van. Went to high school at Van Tech, a very rough school at the time.
What made you choose Langara?
When I graduated from high school, the only schools I applied to were SFU and UBC. I was accepted at both. I chose UBC. Langara wasn't even on my shortlist.
So how did you end up at Langara?
I wasn't ready for UBC and failed my first year. I was shocked. My parents were so disappointed and, while my family was well educated (my dad is a graduate of Berkeley), they weren't well off so they decided not to fund my education any further. There are lots of people like me. They go to university. They don't do well 'cause they're not ready for it and flunk out but still want to continue with their education. That's how I ended up at Langara.
Did things change after you started at Langara?
Not my first year. I still didn't take it seriously. I did the exact same thing that I did at UBC – skipping out of half my classes and not doing my homework. I covered the cost of my tuition by playing Big Two in the cafeteria. I wasn't dumb; so I didn't fail but I only just got by with around a 2.0 GPA.
It wasn't until my second year that I got my act together.
What was your "aha" moment?
My lacklustre performance at Langara was even more of a disappointment for my family. I remember this one pivotal moment with my Dad. I said to him "Dad, if I tried, I could get all A's." He said. "yeah right" with a look that said "son, you're not going to amount to much". 
In that moment, I wanted to show him just how wrong he was about me. Next term, I buckled down. I ended up getting A's in all ten of the courses I took over the next two semesters.
So a change of attitude towards education was all it took?
No. It was a real motivator but the answer is probably more complicated. One of the good things about Langara was that I felt safe. Not judged. I was among others, who were finding themselves, whether they were just starting off and hoping to go to university, or had been away from university and were regrouping. I think both of those were probably quite common.
I felt Langara was better than UBC for me in many ways, because it was smaller and more intimate. You actually knew people and had interactions with the professors whereas UBC was so big that you were just a number.
I think that if I had not gone to UBC, and gone to Langara first, I probably would have done better. I think it would have been a smoother transition going from high school into college versus going straight from high school to UBC. My first lecture at UBC had over 400 people. I stopped going because I figured no one was going to notice if I wasn't there.
What did you take away from your educational experience?
As much as I want to say my parents made me do sciences, I think it was really valuable.  It gave me a broader knowledge base to work from.
I'm coaching my children to get a liberal arts degree as an undergrad. It will give them a great base to then decide what they want to do. I'm a firm believer in broad-based education.
What advice would you give student thinking of going in to business for them selves?
I think that the most important thing is to go work for an entrepreneur, so you can learn the ins and outs of what it is like to be one. By working for a smaller owner-operated company, I got to be immersed in the business. I got to do everything. It's hard to get experience like that in a large company. I think that people coming from bigger companies have a harder transition to entrepreneurship.
Also find a role model. Go to work for them. Find a way to report to them directly. Learn from them and get real experience before you start your own company.
My boss at Great Little Box Company – Robert Meggy was great. He was the first one in the office. He was also one of the first one to leave because he coached his kids' sports. He was at every game. He was able to be both a really great businessperson and great a family person. I was inspired by how he was able to balance work-life. He's someone I look up to.
Starting a business can be risky. How do you know if your idea is viable?
People vote with their dollars. You can talk all day long about how much someone says they love your product, but at the end of the day, the only thing that will prove that your idea is good is if legitimate (not family and friends) customers are willing to pay for it.
Words don't mean a whole lot. Actions are the only things that matter.
What advice would you give to new entrepreneurs on competing successfully in the global economy?
My coaching advice for young entrepreneurs starting out is don't worry about conquering the world all at once. There is time for that. Take care of your backyard first. So if you're starting out in Vancouver, make Vancouver really great. Have stark-raving fans here.
Show the potential of what you can do in a small market and then identify your next market. If you can't show success here, you really shouldn't be going everywhere. You prove the crap out of your idea at your one location to start. Show what's possible. Then you have a story tell – if I can do it here, I can do it there.
Everyone should think of his or her business using a franchise model even if it's not a franchise. Because then will you think things through enough so that when you expand your business to more markets you'll have gone through the discipline of making sure that it is well thought out. People are often in too much in a rush to expand their business without fully understanding it and then their mistakes are magnified. Where as, once you really have things dialled then the dollars that you put in to growing your business are amplified in the direction you want versus fixing stuff on the fly.
Make sure you own something before you take on something else. Have fewer products. Be as specialized as you can. Show that you how valid you are in a small market. Show how much potential there is in that very small market. Then show how many similar markets there are elsewhere. Then take it from there. It is a very practical approach.
Tell me about your new venture Lyra Growth Partners?
Lyra is a private capital and brand-coaching firm that helps emerging consumer brands accelerate growth and maximize value. It's named after the constellation Lyra, in which Vega is its brightest star. The goal is to help create an entire constellation of great North American-based companies.
We want to invest in people who we think will be successful without us. We want to give them the tools to be even greater. Get them there a little faster. Give them a bit more certainty. Coach them both professionally and personally. Make sure that funding is never a limiter. Give them life-hacks so that they can make few fewer mistakes than we did.
What do you look for when investing in a business?
If you can show me that whatever product or service you offer, has a small group of committed core stark-raving fans, I know that that business is scalable to a much larger scale. You can always find more people to join that tribe. But you if can't get people to get excited about the brand, it's unlikely that you are ever going to have a tribe at all.
I would also never invest in a business where I didn't love the founders. Their talent, their ability, their character, their integrity… believe in them wholly. We want to back winners. It's all about growth equity. It's about partnering with people who I can both guide and can learn from.
You recently established the Charles Chang Institute for Entrepreneurship at SFU's Beedie School of Business.
Yes. I'm really committed to that. There are people who, since they were little, know in their bones that they want to own their own business. What a shame if they don't have the resources to make that happen.
I started Sequel Naturals out of my garage. I just want to give other entrepreneurs, like me, the support they need to work towards their dreams.
Where do you see yourself in ten year's time?
In ten years, I'll just be doing the same thing. But I'll have more businesses.
Let's say I'm right and Lyra can help create ten other companies like Vega. It's way more than I could achieve by going and starting a business by myself again and also more than I could have achieved if I'd stayed on at Vega.
My goal is really to coach and invest in entrepreneurs and help more great North American-based businesses succeed.
For me, the most fun thing about business is growing and dealing with all these challenges that come up, all the uncertainty, and constantly figuring stuff out. I guess in many ways, it's like tending to a garden. You're pulling weeds. It's very strategic, and it's always changing. So I want to always be in the mix of that.
Growth is addictive. It's addictively fun.
Learn more.
Yvonne Ohara
Alumni Relations
Langara College Foundation
604.323.5674
alumni@langara.ca