Acting Grads
Production Grads
Sarah Fett
click "+" to view resume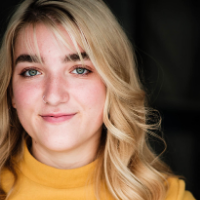 Sarah Fett is a multidisciplinary artist hailing from the historic (boring) capital of Ottawa, Ontario, and a graduate of the Arts Canterbury Visual Arts program. She is passionate about exploring the intersectionality of theatre and visual arts with her keen eye for design and her love for live performance art in all its forms. Credits include: Stage Manager for Studio 58's Risky Nights project: fort, an online Zoom theatre experience, Assistant to the Set Designer for FourPlay under Jenn Stewart, and as the lighting designer for a production of Wilde's Salome by Promethean Theatre next summer. Her latest project is as the lighting designer for Theatre: The Play, a new piece of wacky, novel theatre being produced at Studio 58, written & directed by Mark Chavez and Ryan Beil. She is excited to see where her career takes her!
Emerenne Saefkow
click "+" to view resume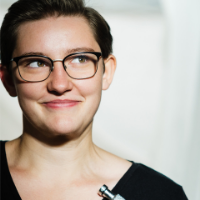 Originally from the small, northern town of Smithers BC, Emerenne Saefkow is excited to be making their set and props design debut with Studio 58's Theatre:The Play. Their past Studio credits include, Hot House (Paint Crew Head), Antony and Cleopatra (Props Crew Head), Anon(ymous) (Assistant Stage Manager), Urinetown: The Musical (Stage Manager), FourPlay (Set Crew Head) and The Dolls House Project (Assistant to the Technical Director and Lighting Crew). As a multidisciplinary artist, Emerenne finds joy in everything hands-on from painting murals to constructing sets. They are incredibly grateful for all the amazing people who have helped them through Studio 58, and looks forward to the new future of theatre, and their role in it.