I, Myself, Am Strange and Unusual
An original production created and performed by fourth term students
Directed by Chris Lam
Online March 29–April 1, 7:30 PM PST
I, Myself, Am Strange and Unusual is an original anthology piece devised under the guidance of renowned Vancouver theatre artist Chris Lam. Join the fourth term acting ensemble as they fight for control while facing their worst fears and obsessions live over Zoom. Escape the targeted horror of today in exchange for a nebulous fear of the perverse, the occult, and our future.
Now in its 20th season, the Risky Nights Series is an opportunity to bridge classroom work and mainstage productions. Students in their fourth term of training create and perform every aspect of an original theatre piece with a professional director.
Content Advisory: Strong language, mature themes, flashing lights, and loud sounds. (Includes explicit descriptions and depictions of: blood, death and dying, murder, selfharm and suicide, obsessive behaviour and stalking, partial nudity, cannibalism, necrophilia. There are references to: loss of loved ones, mental illness, sexual assault, kidnapping and abduction.)
Artwork by Charlie Beaver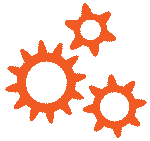 Loading...