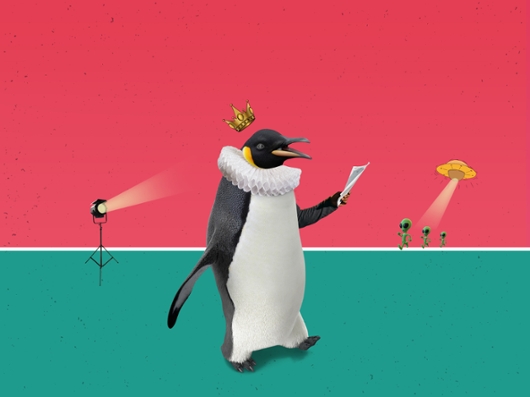 Theatre: The Play
Written and directed by Ryan Beil and Mark Chavez
Streamed on Sunday, November 29. Available to watch (see below) until December 6. 
The Nearlake Theatre Festival & Bar & Grill faces certain closure if they can't produce a hit show. Dudley, the festival's intrepid artistic director, throws out all the stops in an attempt to stage a masterpiece the likes of which the theatre world has never seen: Macbeth, War on Christmas. But, can the cast and crew deal with their personal demons before the punters show up? Theatre: The Play is both a love letter and a cheeky middle finger to the world of theatre, asking "why would anyone work in this unforgiving and unstable field of make believe?". 
Performed by fourth term acting students and designed by graduating production students, Theatre: The Play will be filmed and shared with audiences online. 
Theatre: The Play received a reading at Bard on the Beach's Bard Lab Reading Series in 2018.
Artwork by Emily Cooper 
WATCH HERE: 
Creative Team
Directors' Note
A nice place to waste some time while you wait for the play to start. This is a fluff piece. If you are searching for some bigger meaning or deeper understanding about Theatre: The Play, you will not find that here. What you will find is a little bit of trivia. For example, this play was conceived and created in two different places: backstage of another backstage comedy (David French's Jitters) and a small patio off an even smaller apartment in Sayulita, Mexico. We've always described this piece as one part love-letter and one part middle finger to a life in the theatre. We've also described it as a completely unproducable production. And while both statements are true, the second statement is less true. The show you are about to see is one-hundred percent a comedy. But it is worth mentioning that all the humour comes from an essential truth or actual lived experiences from performing and creating live theatre. We believe strongly in the power, influence, and art form of Comedy. Making jokes are important, and if you don't like that – we don't like you. Well, that's a bit harsh. You're probably all lovely people. Unless you are politically conservative. Then it's up in the air. Sorry,  this has gone off the rails, lets get down to brass tracks: There are millions (maybe billions) of reasons to go to the theatre and they are all valid. Including the ones we are attempting to provide you with. — Ryan Beil and Mark Chavez
Cast & Crew