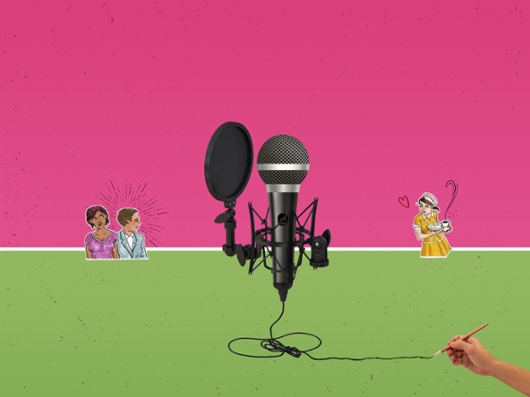 Mentored by Colin Murdock & Aaron Bushkowsky, with illustrations by Josué Menjivar
Available to listen to NOW!
Taking inspiration from illustrations by comic book artist and illustrator Josué Menjivar fifth and sixth term students worked with acclaimed playwright Aaron Bushkowsky to develop a short audio play script. These were then further refined under the guidance of award-winning voice actor and director Colin Murdock to create final dramatic productions. With the growth in animation and voice acting work for actors, and the push for innovative and fresh online creation, this project has helped students hone their voice and character acting skills and has given them more tools for a varied and ongoing career in the digital age. The audio plays are available to listen to below! 
Artwork by Emily Cooper (featuring illustrations by Josué Menjivar)
PRESENTING THE AUDIO PLAYS
Countdown to New Year's 
Written & Performed by Sarvin Esmaeili, Mikenzie Page, Ray Koh, and Sierra Haynes. Cover art by Ray Koh.
Four friends counting down to New Year's don't realize someone else is counting their souls instead.
Karl Barx's Ruff Night Show
Written and performed by Matheus Severo & David Erasmus
In a not so dystopian animal future, Karl Barx interviews Karen Smudge about their lives without humans.
P.I.N.K
Written by Emily Case & Silken Lawson
Performed by Emily Case, Isaac George-Hotchkiss & Silken Lawson
Welcome to the inner workings of a woman's most intimate bits during the most intimate time. You'll laugh, you'll cry, and maybe you'll even get a funny feeling between your legs.
Audience Advisory: Sexual content
Future Space
Written and performed by Sabrina Banks, Jordan England & Jacob Leonard. Sound editing by Sabrina Banks. Cover art by Jordan England.
In the farthest recesses of deep space, three employees of Shipping Vessel 4117 discover that not all is as it seems on their voyage to Kepler 1229b.
Summer School
Created by Caleb Dyks, Vuk Prodanovic, Tanner Zerr
Three boys are held back in summer school with a teacher they'll never forget.
Audience Advisory: Coarse language & violence 
LISTEN HERE:
THE ILLUSTRATIONS (by Josué Menjivar)
(From left to right)
1. Countdown to New Year's & P.I.N.K | 2. Future Space | 3. Karl Barx's Ruff Night Show | 4. Summer School