| | |
| --- | --- |
| Date: | Apr 4, 2019 to May 17, 2019 |
| Time: | 9:00 AM - 10:00 PM |
| Location: | Main Foyer, Building A, Langara College, 100 West 49th Avenue |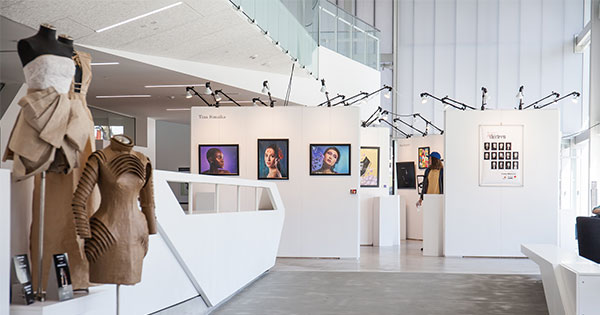 Check out the Creative Arts & Industries Graduate Pop-Up Gallery from April 4 to May 17. The exhibits will feature some of the best student work from Design Formation, Fine Arts, Journalism, Professional Photography, and Publishing. Join us each week in the A Building Main Foyer, or T Gallery Foyer as we feature a new exhibit.
April 4–17: Design Formation
This year's show displays a wide range of students' projects from graphic design to exhibition and interior space design.
Opening night April 4, 7:00 pm
April 25–4: Fine Arts
An impressive selection of students' drawing, sculpture, painting, design, digital design, ceramics, and prints.
Opening night April 25, 7:00 pm
April 23–May 6: Professional Photography
Featuring our students' creative imagery spanning portraiture, commercial, and editorial genres.
Opening night April 25, 6:00 pm
Please note – Exhibit will be located in the T Building foyer
May 6–12: Publishing
Publishing students present the latest issue of our annual publication, Pacific Rim Magazine, showcasing the best in student writing, photography, and design.
May 14–17: Journalism
Our students demonstrate their versatility reporting across media platforms including newspaper, online, magazines, radio, and television broadcasting.
Gallery Hours
Mon-Fri: 9:00am - 10:00pm
Sat-Sun: 9:00am - 7:00pm
Closed Public Holidays
Find out more about out about the Creative Arts & Industires programs
2018 Pop-Up Gallery