Dec 15, 2017
Vancouver, BC –On Tuesday, November 28, Langara College participated in its first Giving Tuesday. A global day of giving, Giving Tuesday is an opportunity for people to give to the causes important to them, and also to celebrate the act of giving and giving back.
The Giving Tuesday campaign highlighted the issue of food insecurity, an issue that many students face every day, choosing to pay their rent, tuition, and textbooks over food. The campaign aimed to raise funds to establish an on-campus food bank program to provide emergency food packages and other essential items to students in need. 
With support from generous donors and social media followers, we raised over $12,000 for student support. This included a $2,812 donation from the Langara Students Union as part of our social media campaign. We asked our social media followers to get involved in the act of giving and with each like, share, or comment on our social media posts, LSU would donate $1 to the Community Cupboard.
"Often students take on a financial burden to further their education and schooling. LSU is passionate about supporting Langara students and through this donation to the Community Cupboard we are able to help not only by putting food on the table but also offer some financial relief to those students in need," said Snehdeep Kang, President, Langara Student Union.
Giving Tuesday raised almost $10,000 for the Community Cupboard project, making an on-campus food bank a reality for students. To give you an idea of the impact of these funds, the Community Cupboard could now support 238 students for a month, or 79 students for an entire term.
"We are so delighted by the overwhelming support for the Community Cupboard. The funds raised on Giving Tuesday will help make the on-campus food bank a reality, and we are excited to work with our student community to determine how it can best address their needs," said Reba Noel, Manager, Student Engagement.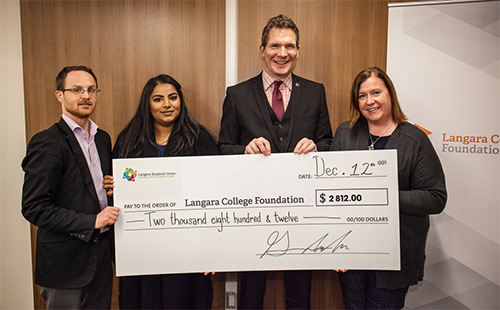 Left to right: Dean of Student Services - Clayton Munro; Executive Director, Langara Students' Union Association - Gurbax Leelh; President and CEO - Lane Trotter; and Executive Director, Langara College Foundation - Moira Gookstetter
About Langara
Located in beautiful Vancouver, B.C., Canada, Langara College provides University, Career, and Continuing Studies education to more than 21,000 students annually. With more than 1,700 courses and 130 programs, Langara's expansive academic breadth and depth allows students of all ages, backgrounds, and life stages to choose their own educational path. Langara is also known as house of teachings, a name given to it by the Musqueam people on whose unceded traditional territory the College is located.
Learn more.
Carly Barrett
Communications Officer
Langara College
604.323.5176
cbarrett@langara.ca