Support the growth of our emerging artists. 
Studio 58 is one of the best conservatory-style theatre training programs in Canada. Studio 58 is passionate about giving students access to the best theatre professionals and guest instructors through our theatre productions and regular workshops. The experience to learn from, work alongside, and be mentored by those working in the industry is priceless for students.
Studio 58 has built a national reputation for providing experiential learning opportunities for students but they come at a cost. In recent years, we have found it increasingly difficult to recruit these seasoned directors, innovative choreographers, creative designers, and specialty workshop instructors. The Studio 58 Annual Giving Campaign hopes to raise money throughout the year, allowing Studio 58 to continue providing students with the best educational environment possible to learn theatre arts.
Annual Appeal 2019/2020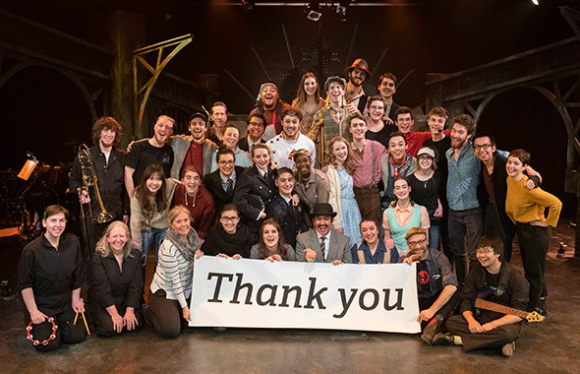 In spite of these unconventional times, you chose to support a project that is close to our hearts. You should be very proud! Together, over the past year, you have donated $28,135 to our Studio 58 Annual Appeal and, for that, we thank you!
Your funds were used to purchase new sound and stage equipment for Studio 58. We were also able to replace some of our costumes after a moth infestation and continued to provide theatre professionals to our students to assist them in perfecting their craft.
Prior to March, the students had performed in some fantastic plays, from the heart-wrenching Anonymous to the highly amusing but thought-provoking Urinetown. They also wrote and produced some of their own work, under the guidance of theatre professionals and an amazing faculty.
Unfortunately, due to COVID-19, they were not able to bring this to you live but gained some incredible experience in undergoing the process. While Studio 58 had to halt programming abruptly, the students continued to write, produce, act and design, and to bring some of their work to the digital landscape.
As we get ready to launch our new 2020-2021 Appeal, we want to take a moment to thank you for staying with us and for your unwavering support. Please look out for more information about the new season. While the physical doors are closed for now, the show will go on, albeit in a different format.