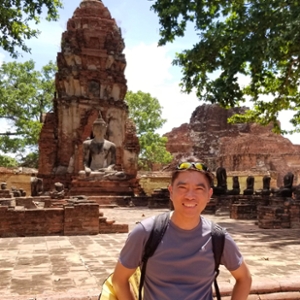 Kenneth Wong is a full-time instructor in the Langara School of Management, specialising in International Business and Marketing.
Your primary area of work is in marketing and international business. Given Covid-19, the global world has changed. What are one or two key areas that students should think about for new global businesses trying to survive today?
This is going to be excellent training for the real world. In addition to learning the use of technology, more importantly, students will learn about discipline and the necessity to develop a daily routine. It may be a challenge to some to regularly attend synchronous classes and focus on assignments with no supervision, and yet, this may well be the demand – and opportunity – in the coming years.
For the past few years, you have gone to Asia taking our students on fantastic journeys that include cultural and business organizations in Korea and China. Do you think that field studies will resume? If so, when do you think it will happen.
I remain cautiously optimistic that international travel will ease up by next summer. Our destinations – South Korea, Thailand, and Vietnam – have all fared well during this pandemic. South Korea became a model on "Trace, Test, and Treat". (See my article on using Hofstede to explain its response to COVID). Thailand shut down early on and to date ranks 99 in number of active cases. Vietnam was even more effective in their defense, resulting in zero deaths. We will, however, prepare for Plan B which may be to offer a virtual field school. Details to be determined.
What do you do to relax and stay positive during this difficult time?
To remain motivated, I remind myself of this impactful story of one of my students.
A few terms ago, I had a student who was relatively low key in the classroom. He would always come in with a genuine smile but sits in the very back corner seat. He doesn't participate much in class discussions but never fails to provide a comment when invited to do so. Yet, I can tell he strived to excel because by Week 2, he was asking for extra resources to study. I decided to spend some time watching over him.
Throughout the term, he worked diligently and scored well on the midterm exams. He also got along very well with his group project teammates. His amiable nature earned him much trust and respect from those who knew him. When he had to miss class, he would email me ahead of time with a valid excuse. I praised him about his great sense of responsibility. We could see his confidence level rising over the weeks. He even started volunteering answers in class discussions without prompting from me.
One day, both his project team members and I noticed that he had been absent for two weeks without communication to any of us, which is unlike him. We wondered what happened. A day later, an unusual email came in from the Dean of Student Services with his name in the subject line. Thinking perhaps he has withdrawn from the course, I opened the email. Instead, the Dean informed me that he had suddenly passed away.
I had lost students before, but this is the first time to lose one while the student is still in my class. I had no idea how to react. I sat there in shock in my office for a long time. Here is a 19-year-old, full of potential, just waiting for his wings to fly sky high. And now, his life comes to an abrupt end. Us teachers often talk about preparation, but nothing will ever prepare us for this.
In the next class, I delivered my lecture as planned, and then I told the class I have some sad news for them. As there is no easy way to make such announcements, I dove straight in and said that he has suddenly passed away. I went on and described how I had always admired him. By then, I could hear a few students holding back their tears in the back where his seat was empty.
Trying my best to control my own emotions, I then asked the class to please stand and observe a moment of silence. You should see how, without hesitation, the whole class stood up, put their hands together and bowed their heads. The next minute was so quiet you could hear a pin drop. I was deeply touched and impressed by this show of respect and maturity. After class, a few students came up and asked how he died. I told them that I didn't know. As cliché as this may sound, I said that we should not be concerned about how he died. Rather, the best way to honour him will be to remember how he lived.
The project team then did a very classy act. When it came time to present in front of the class two weeks later, they opened by dedicating the project to him. They, of course, also included his name when submitting the assignment. He would have received an A. It took a while but one of the teammates finally broke down right after the final exam in the hallway. We chatted for a while, and agreed that he has no doubt touched our lives in a meaningful way.
Thinking about his parents, I decided to write them a personal letter to let them know what an amazing son they have. I wrote, as a parent myself, I cannot possibly imagine the pain they must have been going through at the time. I told them how I especially enjoyed his cheerful presence in the class. Through a family friend, the parents kindly wrote back to express their appreciation, and particularly to his school mates for displaying such character and love for him.
Through this experience, I come to learn that we are all connected at so many levels, and time is not a factor. Even though I was his teacher, what he has done was to teach me how to rediscover ourselves. He reminds me that every person has the same potential to excel. I am deeply honoured to have met such a great man. We must not judge, and instead, should let that discovery of self-awareness emerge naturally.
With that in mind, allow me to quote my favorite T.S. Elliot poem Little Gidding:
We shall not cease from exploration
And the end of all our exploring
Will be to arrive where we started
And know the place for the first time.