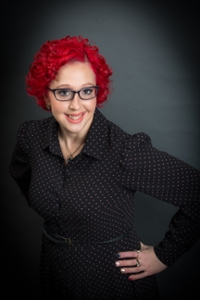 Why did you choose to study the Marketing Diploma?
 
I developed a strong interest in Marketing when I took a Marketing class in high school (way back in 2002!). I wanted to dive deeper into how products and services are marketed, branded and sold. I also was interested in the psychology behind how consumers purchase particular brands.
 
Have you found work in the area that you studied?
 
Yes, I have well over 12 years experience in marketing, sales and event management. I applied a number of principles I learned when I was at Langara even though the marketing landscape has changed drastically since I took my diploma (hello digital marketing and social media!). I started off in the marketing and sales coordination side, then moved into event management and now I am in a position that is a combination of event management and administration and I love it!
 
Did you find your work to be what you anticipated?
 
Somewhat, yes. A lot of what I learned at Langara was reminiscent of what I was doing at my first full time job after I finished my diploma. I slowly moved into event management which I did not foresee happening when I was in school. I started to do more and more event related tasks in my first job out of school and realized I loved it and wanted to pursue a career in event management. I still utilize my core Marketing skills I learned in school in the work I do almost every day and I don't think I would be where I am today if I did not take the Marketing diploma at Langara.
 
What was one of your best memories from Langara?
 
Making new friends and having great conversations related to my area of study at the cafeteria! I also really appreciated how much career support the co-operative education department gave me during my 2 years at Langara (you rock Heather!)
 
What are you doing to stay positive and motivated during Covid?
 
Staying connected with family and friends virtually, singing (I belong to a choir and we have gone virtual), working out regularly and my two Corgis (dogs are great therapy). I also decided to learn ukulele and that has been a lot of fun!