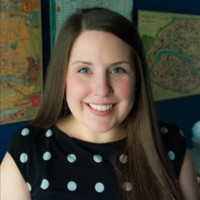 Christa is a new teacher keen to make a positive impact on both students and the world of education. Effective teaching requires both instructor and student to be open-minded to learning. Post MBA, Christa has +10 years of professional experience in the consumer package goods industry in marketing, sales and entrepreneurism. She is also a Mum to a mini poodle and many plants.  
Covid-19 has vastly impacted everyone today. What have you and your work environment done to cope with an online environment?
The challenge of Covid-19 has been an excellent opportunity to strengthen my teaching practice and further develop students' learning skills. I don't view education during Covid-19 as one that requires coping, but rather one that promotes thriving.
If you were to give a student one or two pointers to help them through this time, what would they be?
Embrace this time as a gift for us to learn to enjoy our own company while practicing social distancing

Indulge in the occasional cute puppy video on YouTube 
How do you stay positive and motivated?
I genuinely love teaching so it's not too difficult to stay motivated. It's the simple things about working in partnership with students that are gratifying. This positive feedback helps fuel the self-reinforcing cycle of motivation. My fur baby and pollinator garden bring a big smile to my face to keep the positive juices flowing!