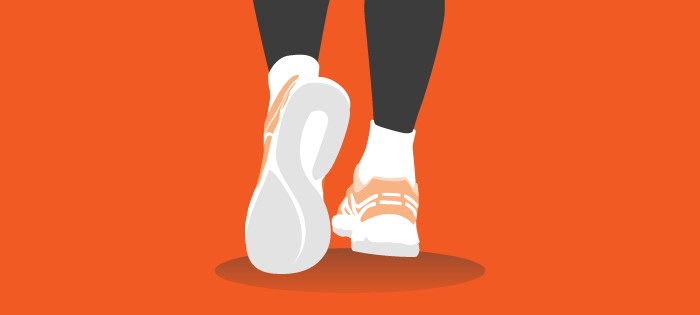 New year, new resolutions. Get back on track with our Employee Walking Challenge, geared to get you to the next step of your wellness goals. We want to see those sneakers moving around the campus and the city, getting your heart healthier, and your mind clearer. Step it up by taking the challenge from February 1–28, 2018.
Track steps using any device (your phone, Fitbit, Garmin, etc.) and submit for a chance to win great prizes throughout the month. You can also borrow a pedometer from People Services from January 26 onwards. Winners and prizes will be announced in the Langara Post weekly throughout the challenge, so be sure to check the Post regularly for updates!
---
Registration:
To sign up for the first-ever walking challenge, familiarize yourself with the challenge guidelines below and visit the following link, Registration Form, by January 25, 2018.
-and remember to walk at least 10,000 steps a day to achieve health benefits!
Challenge Guidelines:
Participation is voluntary; registrants are responsible for ensuring their own safety. All levels of experience are welcome. Be sure to consult with your physician if you have any health concerns prior to joining the challenge.

Employees can either pick up a pedometer from People Services or use their phone or watch (Fitbit, Garmin) to track steps. If borrowing a pedometer, after the challenge is over, please remember to return it to People Services for the next challenge. See the following links for apps that can be downloaded for use on your device: 

Android: https://play.google.com/store/apps/details?id=com.google.android.apps.fitness&hl=en 

Make sure that the pedometer is in vertical position, sitting just above your hip bone and secured with the strap to the belt loop, belt or waistband to prevent it from falling off.

Alternatively, make sure you are wearing your watch or carrying your phone with you.

If there are two or more employees participating from the same department, we will combine your steps to form a department total.

Final winning department and top three individuals with most cumulative steps throughout challenge to be announced after challenge is over.

Only steps will be tracked (i.e, activity involving walking, running, etc.).

The challenge is based on an honour system. Log your steps at the end of each day, click here for a tracking sheet, for your own usage. Then once a week starting on February 9th, report and submit your steps as mentioned below. Remember to reset your pedometer or step tracker at the start of each day.

Steps to be entered online each week by 12pm on Friday's, with exception of first week as there is no submission required. Submit steps on the following step entry dates using the link below:
February 9.............(for total individual weekly steps from February 1-8 inclusive)
February 16.......... (for total individual weekly steps from February 9-15 inclusive)
February 23 ..........(for total individual weekly steps from February 16-22 inclusive)
March 2 ................(for total individual weekly steps from February 23-28 inclusive)
Step Submissions:
Click here to access the Weekly Step Submissions Form.
---
If you have any other questions, please contact Nav Dhaliwal, Coordinator of HR Strategic Initiatives at wellness@langara.ca