Business cards are a convenient and effective way to present a professional image of Langara College and communicate your official role within the organization.
Process
Langara employees who are regular faculty members or administrators may order business cards; non-regular faculty and support staff may also order cards at the discretion of the appropriate division chair or administrator. They must be ordered through your department chair or supervisor, who will complete the required form, determine quantities, and provide the appropriate signature of approval to Purchasing. Visit the College Policies page to review our Business Cards Policy (B1002).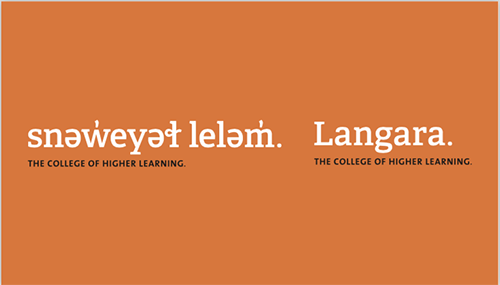 Brand Standards
Business cards are printed per the Langara brand and the College's business card template. Business cards may only list the employee's active position as listed in the human resources system.
The following content is not permitted on Langara business cards:
Unofficial job titles
Department names that are not associated with the official job title on your card
Logos of other organizations, associations, or corporations
Personal information, including addresses, phone numbers, and emails
Office or room numbers
Slogans, taglines, or quotes
Any alterations to the colours, fonts, and/or format of the business card template 
Guidelines
When an employee has two permanent part-time positions, both positions may be listed on the card, space permitting. If you are a union steward, please contact your union to order a business card that is representative of your union role.
How to order business cards
Employees can submit their order using the Business Card Order form on myLangara. Note orders are minimum 250 quantity.
Contact
If you have any questions about Langara's business card policy and guidelines, please contact the Director, Communications and Marketing at production@langara.ca.