Textbook BuyBack FAQs
Textbook BuyBack Policy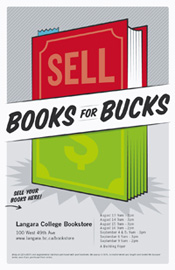 BUYBACKS ARE SUSPENDED INDEFINITELY 
DURING THE PANDEMIC. 
Get up to 50% cash back on selected titles.  
BuyBack is your chance to sell unwanted textbooks for cash 
Both Langara Bookstore and a third-party wholesaler will accept books during the BuyBack dates below
Books bought by us provide used copies for fellow students
There is no guarantee that a book will have a BuyBack value, and Langara Bookstore staff do not have answers about the value or need for your textbooks. 
Books are bought on a first-come-first-served basis, so please come early. A third party book company will be on location to purchase books as they require as well. 
In order to get the best price, sell your book as early as possible.
Please bring your Langara ID.
Books that are damaged or have excessive highlighting or writing in them may not be purchased.
Next BuyBack dates:

Please check the website for future Buyback dates and times.
BUYBACK HOURS:   Hours are typically 9am to 3pm for the first days of each BuyBack period and 9am to 2pm for the last day.
Last Updated March 2020