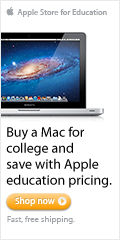 Apple Education Pricing for students and educators is available for a full range of accessories, including Apple Online Store exclusives.
Values and Services
Free Standard shipping on all orders over $75.
Free iPad and iPod engraving.
Save up to $200 on Mac.
Configuring your perfect Mac to your exact specifications.
Thank you for supporting Langara by purchasing Apple products through our site.