Support Langara's Emergency Bursary Fund by purchasing our Warm Hearts scarf.
Our exclusive Langara Warm Hearts tartan represents Langara's ties to our community and our commitment to giving back. Wear a scarf to show your Langara Spirit! Purchase one online or in-store.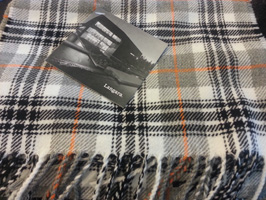 Support Langara's Bursaries by purchasing a $1 Langara Bursary Bag at the Bookstore.  
Thank you to all who purchased a Langara Bursary Bag - we raised $1092.50 for the Spring 2014 bursary.  New sales of the bags will continue to fund the next bursary.  Come in and get yours now!
Thank you for your support.