Sep 19, 2012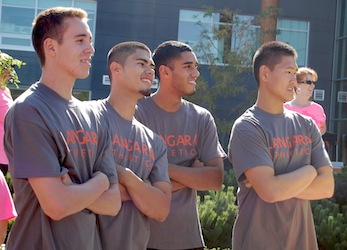 Athletes from the Langara Falcons men's basketball team watch over their station at the 2012 Corporate Kids Challenge.
Vancouver, BC – Athletes from the Falcons men's basketball team rubbed elbows with Olympians this weekend, while working in the community to raise money for children's charity KidSport BC.
The team, led by new head coach Paul Eberhardt, ran a station for the 2012 Corporate Kids Challenge, held by Ritchie Bros. Auctioneers in Richmond. The event welcomed more than 300 participants and over 70 volunteers to participate in a 1980's-themed sports day. Together the teams raised more than $500,000, which will go towards providing opportunities for thousands of children to participate in sports programs.
The Langara Falcons rolled up their sleeves to organize a basketball station where competitors had to sink a variety of shots. During the event they were visited by over 20 KidSport athletes, including six-time Olympic medalist speed skater Cindy Klassen and two-time Olympic swimmer Savannah King.
"The team had a great time participating in this year's Corporate Kids Challenge," said Langara's Director of Athletics Jake McCallum, who pitched in at the basketball station. "KidSport is a charity that we work with on a regular basis, and we're always eager to help out however we can. Many thanks to the Ritchie Bros. for organizing this excellent event."
The event, which was the 3
rd
Annual Corporate Kids Challenge, took place on September 15 at Ritchie Bros. head office grounds in Burnaby.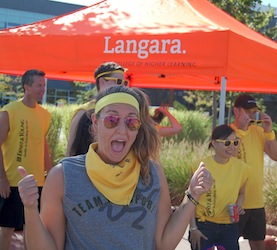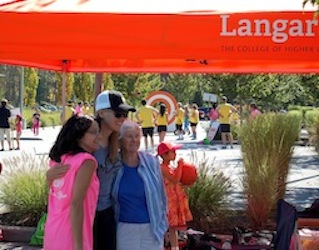 Left: Olympic swimmer Savannah King gets into the sporting spirit at the Langara station.Right: Six-time Olympic medallist Cindy Klassen gets her photo taken at the Langara tent.
Learn more.
Annie Mullins
Communications Officer
Communications & Marketing Services
T 604 323 5058
F 604 323 5680
amullins@langara.bc.ca