Langara College honours employees who consistently demonstrate excellence through their contributions to the College community, both internally and externally. Their achievements exceed the performance expectations associated with their duties at the College. They exemplify the vision, mission, values, and goals of Langara, serving to enhance the College's reputation.
Each year, Langara College recognizes excellence in four categories:
Leadership Excellence - honours an employee who has made an outstanding contribution in a learning leadership role to the internal and/or external College community
Scholarly Excellence - honours an employee who has made an important contribution to research and scholarly activity through their work at the College. 
Service Excellence - honours a non-teaching employee who, as a partner in the learning process, has made an exceptional contribution to the internal and/or external College community
Teaching Excellence - honours an employee who has exhibited consistent commitment to student success and teaching, and has had a significant impact on the academic and personal growth of students
---
The Office of the President would like to congratulate the Recognition and Achievement Award recipients who were announced at the 2019 Recognition and Achievement Award Event on Wednesday, November 20. Click here to view a list of past Recognition and Achievement Award recipients.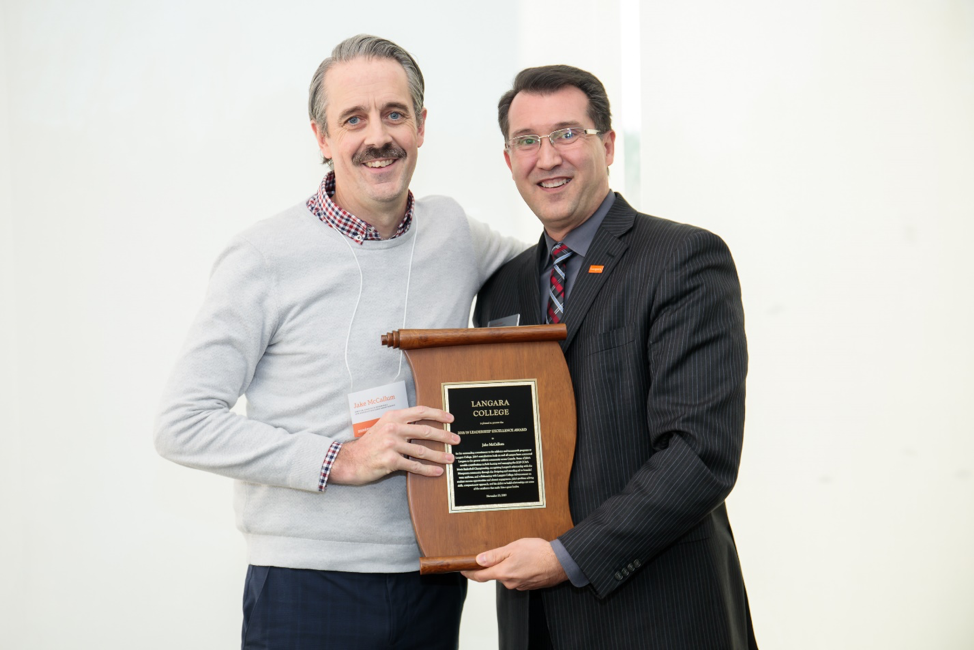 Leadership Excellence
Awarded to Jake McCallum for his outstanding commitment to the athletics and intramurals programs at Langara College. Jake's contributions both on and off campus have connected Langara to the greater athletic community across Canada. Some of Jake's notable contributions include hosting and managing the 2019 CCAA Men's Basketball Championship, recognizing Langara's relationship with the Musqueam community through the designing and unveiling of co-branded team uniforms, and collaborating with Langara College Advancement on student success opportunities and alumni engagement. Jake's problem solving skills, compassionate approach, and his ability to build relationships are some of the attributes that make him a great leader.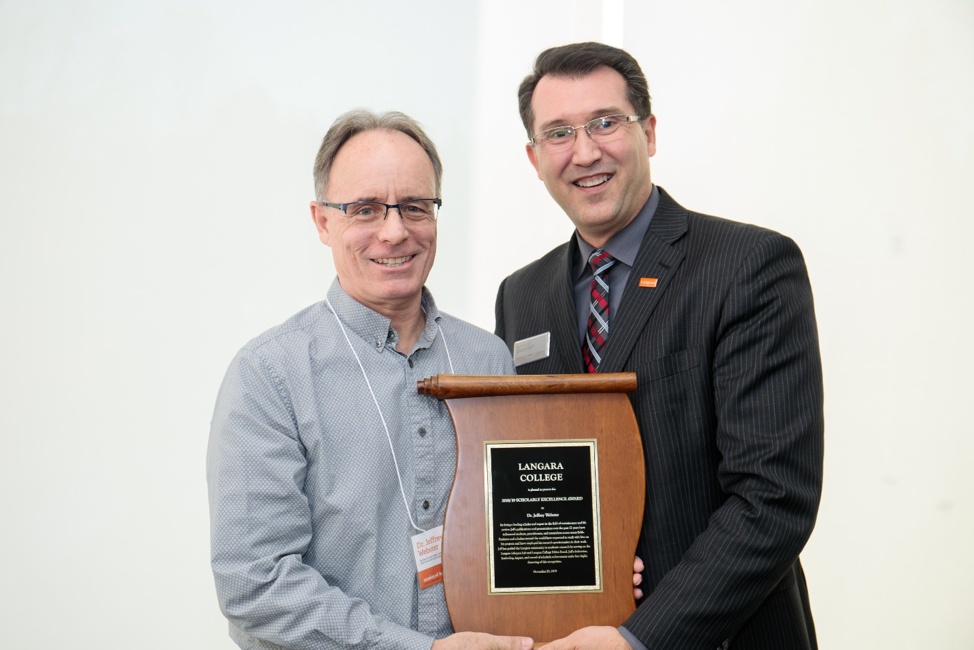 Scholarly Excellence
Awarded to Jeffrey Webster for being a leading scholar and expert in the field of reminiscence and life review. Jeff's publications and presentations over the past 32 years have influenced students, practitioners, and researchers across many fields. Students and scholars around the world have requested to work with him on his projects and have employed his research questionnaires in their work. Jeff has guided the Langara community in academic research by serving on the Langara Lifespan Lab and Langara College Ethics Board. Jeff's dedication, leadership, impact, and record of scholarly achievement make him highly deserving of this recognition.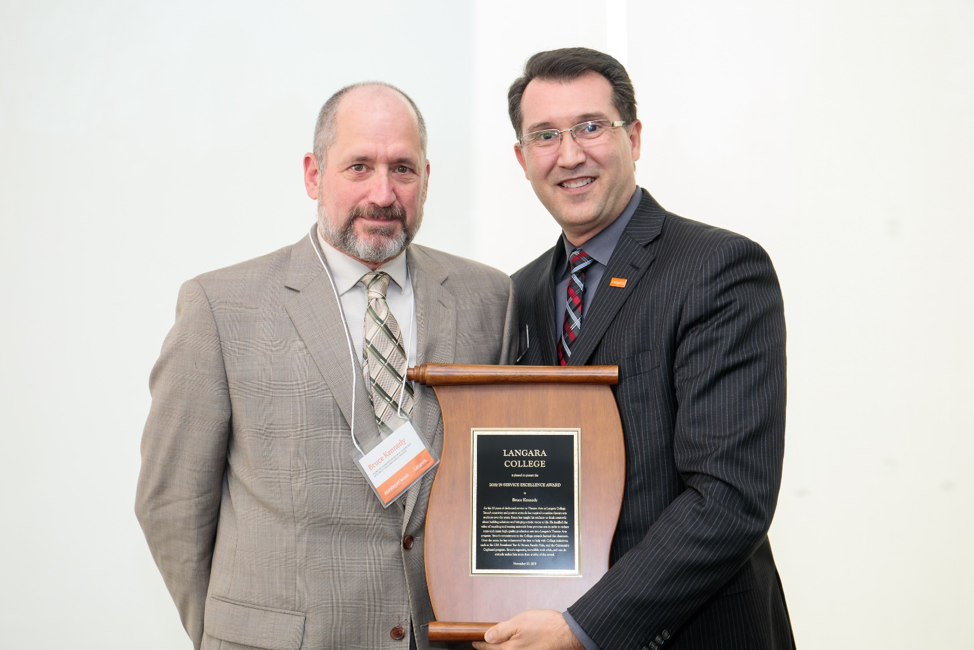 Service Excellence
Awarded to Bruce Kennedy for his 33 years of dedicated service to Theatre Arts at Langara College. Bruce's creativity and positive attitude has inspired countless theatre arts students over the years. Bruce has taught his students to think creatively about building solutions and bringing artistic vision to life. He instilled the value of recycling and reusing materials from previous sets in order to reduce costs and create high quality production sets into Langara's Theatre Arts program. Bruce's commitment to the College extends beyond the classroom. Over the years, he has volunteered his time to help with College initiatives, such as the LFA Presidents' Bar & Dinner, Faculty Gala, and the Community Cupboard program. Bruce's ingenuity, incredible work ethic, and can-do attitude makes him more than worthy of this award.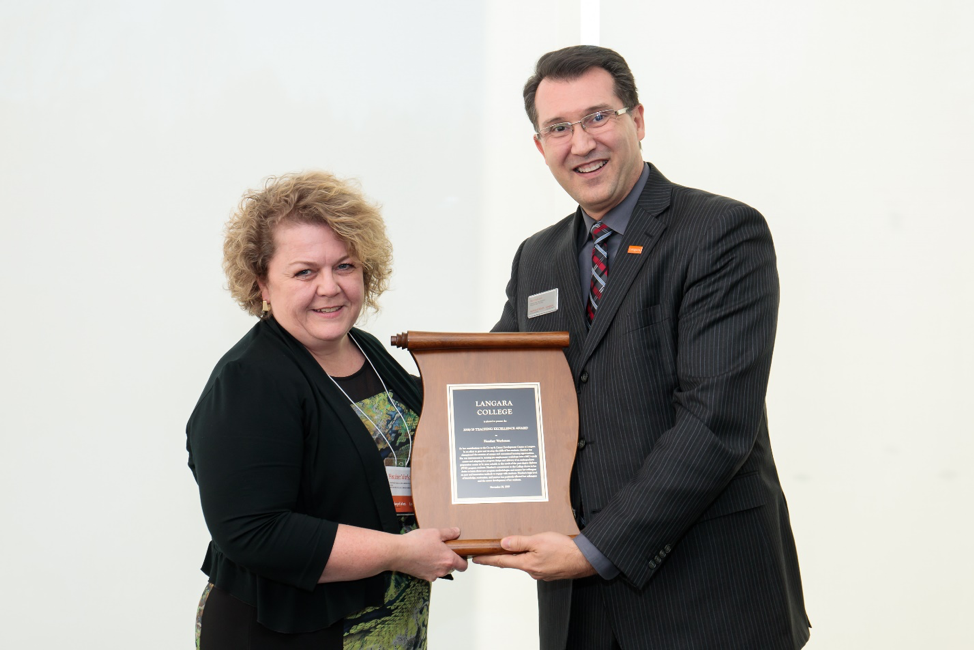 Teaching Excellence
Awarded to Heather Workman for her contributions to the Co-op & Career Development Centre at Langara. In an effort to grow and develop the skills of her students, Heather has championed the creation of unique and customized learning opportunities. She was instrumental in turning pre-employment workshops into a full 3-credit course and adapting the program design and delivery of an undergraduate preparation course to be more suitable to the needs of the post-degree diploma (PDD) program students. Heather's commitment to the College shows in her desire to learn about new program methodologies and mentor her colleagues on new and innovative methods to engage with students. Heather's high level of knowledge, motivation, and passion has positively affected her colleagues and the career development of her students.
---
Click here to view all of the photos from the 2019 Recognition and Achievement Award event.
Visit the HR Recognition and Achievements site to learn more about the awards and nomination process.